Brand Partnerships & Social Influencers
In the digital era, brands not only compete for market share, but for consumer engagement. A single moment of attention is a precious commodity.
Pursuing strategic partnerships with external companies or social influencers can provide brands with access to new, highly engaged audiences.
In other words, partnerships unlock new ways for brands to meet consumers where they are.
However, not every partnership is fruitful. Brands can distribute their products on affiliates where few people seek them out, while missing out on marketplaces where they are more coveted.
They can launch co-branding campaigns with a company whose audience do not align with theirs, or attempt to partner with social influencers based on popularity than affinity.
In this report, we detail how brands can evaluate their external relationships, in order to amplify their brand and grow online audiences.
Get the download

Below is an excerpt of "Brand Partnerships & Social Influencers". To get your free download, and unlimited access to the whole of bizibl.com, simply log in or join free.
Enhancing Affiliate Relationships
Many brands today sell their products or services through third-party distributors and aggregator sites. However, optimising your market share across different affiliates can be a challenge.
This is particularly the case for fashion brands selling into multi-retailers. Whilst these relationships can bring added sales and exposure for brands, many face the issue of not knowing how their brand performs on third-party sites.
A way to overcome this blind spot is through greater data collection, such as page views and search terms. In this chapter, we demonstrate how brands can use internal site search to inform their affiliate strategy.
Internal Search on Retailers' Sites
The below example shows branded searches on Selfridges' and Net-a-Porter's websites, over the all-important Christmas period (3 months to January 2017). Across the two luxury retailers, searchedfor brands largely differ, with only Christian Louboutin sitting in both top 5 spots.
In Marc Jacob's case, the brand ranked 16th on Selfridges compared to 42nd on Net-a-Porter. Searches on Selfridges were also more product-focused (e.g. "Marc Jacobs bracelet", "Marc Jacobs camille satchel bag"), than brand-focused on Net-a-Porter (e.g. "Marc by Marc").
Marc Jacobs could then question whether investing in Net-a-Porter is worthwhile or not, as the brand is ranked lower on the retailer's site. However, if we look at the audiences behind retailer and brand, a different story arises.
Comparing Direct vs. Affiliate Audiences
The below chart details audiences that are "exclusive" to Net-a-Porter and interested in Marc Jacobs (i.e. has not visited Marc Jacob's site, but has searched for Marc Jacobs products) skew younger and reside in South and London regions.
In contrast, audiences "exclusive" to Marc Jacobs (i.e. visited Marc Jacob's site, but not Selfridges or Net-a-Porter) skew older and are more present in North and East regions.
There is a mutually beneficial opportunity for Marc Jacobs to collaborate with Net-a-Porter, in order to attract this unique audience. Using this information, Marc Jacobs could review the types of products and information that this audience views on Net-a-Porter's site, to further increase their visibility.
2. Growing Partnerships
For industries where the purchase cycle tends to be long and meticulous, brands need to capture the customer's attention right from the interest and aspirational stages.
Brands need to be creative with finding new audiences, using vehicles such as product placements, sponsorships, partnerships and affiliations to do so.
In this chapter, we look deeper at the value of partnerships. In particular, how brands can build upon each other's strengths in the automotive sector.
GoPro and Ford - 'The Unstoppable Life'
GoPro and Ford collaborated on a video series campaign, "The Unstoppable Life" in June 2016, which combined GoPro's edge in extreme sport with the spirit of Ford's SUV of "being unstoppable".
Pre-campaign, both brands attracted different audiences. GoPro had a higher affiliation with younger audiences, whereas Ford attracted a higher share of people aged 45-54 years old.
In addition, GoPro's audience were more likely to visit a competitor's site, Toyota, compared to Ford's site.
This situation changed during the actual campaign. Over the month of July*, audiences that were engaged with both GoPro and Ford grew by 18%. The largest increase was also seen among audiences that both brands did not have a traditional stronghold - females. In particular, females aged 25-44.
Audi and Airbnb - 'Desolation'
Audi & Airbnb's partnership also saw mutually beneficial gains in terms of online audience growth. The leading tavel and auto brands had co-created the "Desolation" campaign as part of their Emmys sponsorship in September 2016.
Desolation featured an Airbnb property in the remote Death Valley, which could only be accessed via coordinates provided on the Audi model R8.
When comparing before and during the campaign, Audi saw an uplift of shared audiences with Airbnb, to that of their competitor's level, Mercedez. Their combined audiences also saw an increase in aspirational and affluent consumers, sitting on both ends of the household income spectrum.
Working with the Right Social Influencers
The past few years has seen a new voice enter and dominate the publishing space – the social influencer.
According to Tubular Insights, 57% of consumers had made a purchase based on an influencer's recommendations in April 2017 alone.
Previously, a brand's number one concern was social listening. The rising dominance of social influencers has now led to the next challenge for brands – knowing how to collaborate with social influencers.
Youtube plays host to a vast array of social influencers, with the following vloggers topping the list in terms of internal searches on Youtube. These vloggers have such high brand equity that users are actively searching for their names and youtube channels (often more so than the brands they advertise for).
With 8 million influencers across the globe, how does a brand begin to select the right influencer?
Genuine brand affinity is crucial for a brand's partnership with social influencers. Two factors will make this successful: identifying common values that audiences of the brand and vlogger share, and identifying product interests that compliment both brand and vlogger.
A Look into Travel Vloggers
The following example shows the crossover of airlines and their audiences' interest, compared to the overlap for travel influencers. Whilst the majority of airlines are highly correlated with audiences who search for "family holidays" and "bucket lists", audience interest varies greatly by vlogger.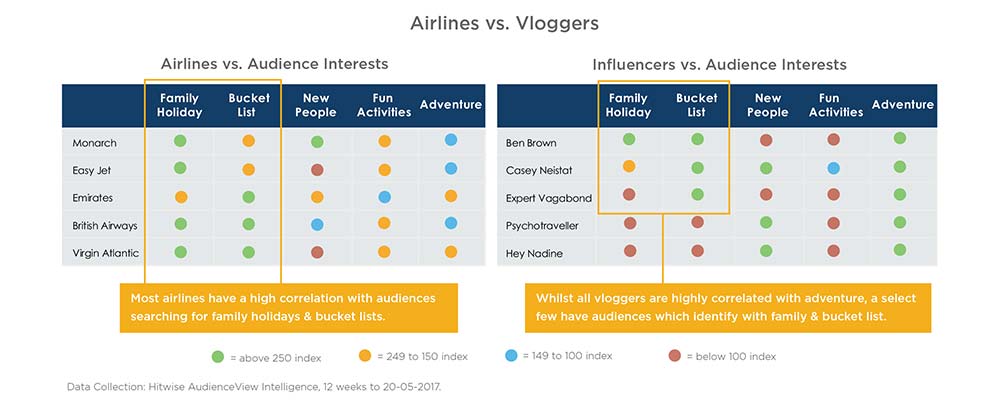 Airlines can then use these interests to find connections with influencers. For instance, Virgin Atlantic's audience is most correlated with family holidays and bucket lists, which is also the case for vlogger, Ben Brown. Monarch's audience, on the other hand, are interested in meeting new people, which matches with Hey Nadine's and Casey Neistat's audiences.
Connections between brand and influencer can be further extended to retailers linked to the tourism industry, such as outdoor retail brands. For the below listed brands and influencers, both have a strong affiliation with audiences searching for weddings, engagements and adventure.
These connections could act as a starting point for brands when selecting the right influencers to partner with. An audience analysis based on common values can also be used to inform the themes and messaging of a collaborative campaign.
For example, Havaianas could partner with Fun for Louis to ensure their footwear is worn in the vlogger's adventure videos. Nivea could also work with Casey Neistat on a dedicated ad campaign that shows a unique experience, such as meeting people from different cultures and backgrounds.
Key Takeaways
Understand how your brand performs on affiliate sites by tracking page views, internal search and audience overlap
Co-brand with companies who can help you tap into desirable audiences
Measure audience crossover and composition before, during and post campaign to evaluate success
Not every social influencer is ideal to partner with - conduct an audience overlap analysis first
Understand the interests of both your audience and of a social influencer's audience in order to align specific products with the right influencer
Want more like this?
Want more like this?
Insight delivered to your inbox
Keep up to date with our free email. Hand picked whitepapers and posts from our blog, as well as exclusive videos and webinar invitations keep our Users one step ahead.
By clicking 'SIGN UP', you agree to our Terms of Use and Privacy Policy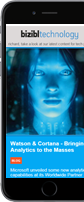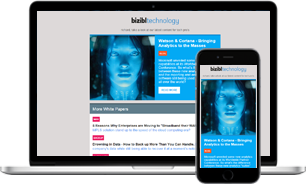 Want more like this?
Stay up to date with our content email